BARCELONA, Final part (V)
Барселона, финал (V)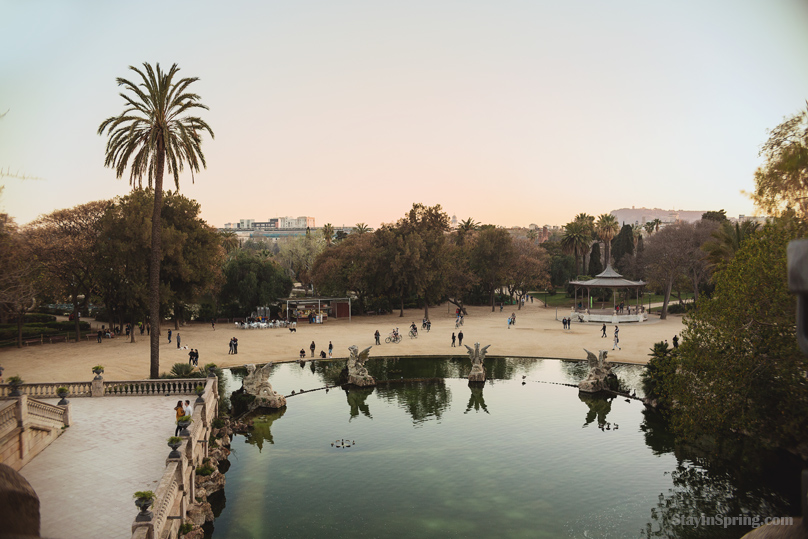 With this blog post I would like to end these series about our journey to Barcelona. I already have two more family trips to cover! Don't forget to click on the pictures to enlarge those!
И, наконец-то, завершающий Барселонский пост. У меня уже ждут очереди фотографии из 2-х следующих путешествий!
There was a gorgeous calm sunset that day (the zoo day), so, right after the dinner, we decided not to leave yet to our apartments and went for a walk in the most gorgeous city park in Barcelona — Parc de la Ciutadella.
В
тот день
был очень красивый, тихий закат. Поэтому сразу после ужина мы решили ещё чуть-чуть погулять. Рядом с зоопарком в Барселоне находится невероятной красоты парк — парк Цитадели. Туда мы и направились.
The next day morning: Montjuic, Poble Espanyol. Nothing makes Marge happier than some sand and a puddle.
Следующее утро: гора Монжуик, Испанская деревня. И снова — самое большое развлечение Марго — это песочек в сторонке и лужа у скамейки!
The beauty of the Botanical garden of Barcelona. By the way, I totally recommend it. It was our favorite place. The exposition is really interesting: you can find plants from all over the world there, and those are grouped by continents.
Красоты Ботанического сада Барселоны. Кстати, рекомендую. Очень интересная экспозиция: растения со всего мира и сгруппированы по континентам. Куча кактусов и гигантский фикус.
And our return to the city via escalators from the mountain!
А в город с горы можно вернуться путём спуска по эскалаторам! (бесплатно)
And… this is it! The day came to its end on an airplane. We enjoyed this journey and would be happy to revisit Barcelona in the future!
Вот и всё. День закончился на борту самолёта. Путешествие нам всем понравилось,  В Барселону мы обязательно приедем ещё раз!