What a Mother Treasures Most
Самое важное для мамы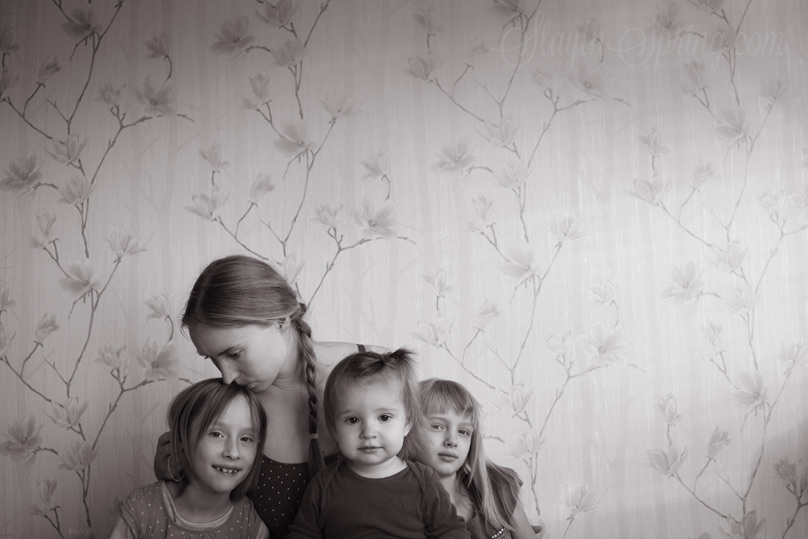 There is an accident that I can't stop thinking about. There are a lot of sad things in the world that happen every day, but only some of them can be changed.
Случилось кое-что, о чём я не могу перестать думать. В мире постоянно происходит много разных печальных событий, но лишь немногие из них могут быть изменены к лучшему.
There is a Latvian woman who lost her daughter five years ago to the social services of another European country, where her family had been immigrated earlier. I intentionally don't name the country, as it really doesn't matter. I believe that cruel and mean people are evenly spread around the world.
Эта история об одной женщине из Латвии, которую 5 лет назад социальные службы другой европейской страны, в которой она на тот момент проживала, оставили без дочери. Я намеренно не называю страну, т.к. для меня это не имеет большого значения. Я верю, что жестокие и жадные до денег люди примерно в одинаковых пропорциях рассредоточены по всему миру.
That woman made an insignificant mistake that turned to be the biggest mistake of her life. Her child being only 2 years old was taken away from her by force and she's still fighting to bring her back.
Это женщина совершила небольшую ошибку, которая впоследствии стала самой большой ошибкой в её жизни. Её ребёнок, будучи 2-х лет отроду, был забран у неё, и она до сих пор борется за то, чтобы его вернуть.
There was a court a few days ago that made a final decision to give the girl for the adoption despite the whole girl-taking-into-care-being-a-mistake thing, because the judges believe that it's too late to return her to her mother, as it could psychologically harm the kid who is 7 years old now.
Несколько дней назад прошло судебное слушание, в результате которого суд вынес окончательное решение об адаптации девочки. Несмотря на очевидность недостаточности причин, по которому ребёнок попал в руки социальных служб, суд счёл слишком долгим время, проведённое ребёнком, которому вот уже 7 лет, вдали от матери, и решил, что в интересах ребёнка продолжение процесса адаптации.
We are all human. We all make mistakes time to time. Our mundane harmless mistakes shouldn't cost us this much. After all, our kids is something that we treasure most in our lives, and even more than our lives.
Мы все люди, мы все ошибаемся. Наши безобидные повседневные ошибки не должны нам стоить настолько дорого. В конце концов, дети — это то, чем мы дорожим больше всего в жизни. И даже больше жизни.
Why do I care?
Почему меня это волнует?
I feel for this woman because I'm a mother. I strongly believe that the biological parents: a mother, or a father, or better both of them (even if they are divorced), that are mentally healthy — are the best for every kid, as only they can love their child truly unconditionally. I also know that nothing can hurt more than losing a child.
Я всем сердцем сочувствую этой женщине, потому что я тоже мама. Одно из моих убеждений — это то, что биологические родители: мама, или папа, а лучше оба (даже если они в разводе), психически здоровые — это лучшее, что может быть у любого ребёнка. Потому что на всём белом свете только их любовь к своему ребёнку по-настоящему безусловна. Ещё я знаю, что нет ничего больнее потери ребёнка.
I wrote this because I believe that people should be aware of the huge injustice that takes place in seemingly peaceful and safe place of the world where, you would think, the government takes care of you. What is more, this is not the only case. Sad, but true.
Я написала это, потому что мне хочется, чтобы люди был в курсе огромной несправедливости, которая творится в той части мира, которая считается спокойной и безопасной, где, казалось бы, государство заботится о своих жителях. Но, к сожалению, это вовсе не единичный случай. Грустно, но факт.
When I read about this case for the first time, I thought that I just don't know all the details to have my own opinion on this case. But then I came across a lot (A LOT) of similar stories. I know that this woman truly loves her kid, after all she wouldn't fight for her for this long, if she wouldn't. And now I'm also sure: it's not a mistake of the system, it's A SYSTEM. The legal system of steeling other people children with a purpose of getting a revenue.
Прочитав об этой истории в первый раз, я сначала подумала, что не могу судить, так как мне не известны все детали. А потом я стала натыкаться на много других, действительно много, подобных историй. У меня нет сомнений в настоящей материнской любви к своей дочери этой женщины. В конце концов, будь это не так, она бы не боролась за свою дочь эти 5 лет. А теперь я ещё и абсолютно уверена, что произошедшее — это не ошибка в системе, это СИСТЕМА. Система узаконенных краж детей в целях последующей выгоды.
And no, I'm not exaggerating. It's serious. Here is what you can read about this matter if it matters to you:
Нет, я не преувеличиваю. Это серьёзно. И вот, что на эту тему можно почитать ещё, если интересно:
This article explains how it all started.
This article explains how and why it works.
The articles are from 2012 and 2014, but things didn't change since then.
Обе статьи на английском, датированы 2012 и 2014 годами, но с тех пор особо ничего и не поменялось.
These are just me and my girls on these photos.
На фотографиях в этом посте просто я и мои девочки.