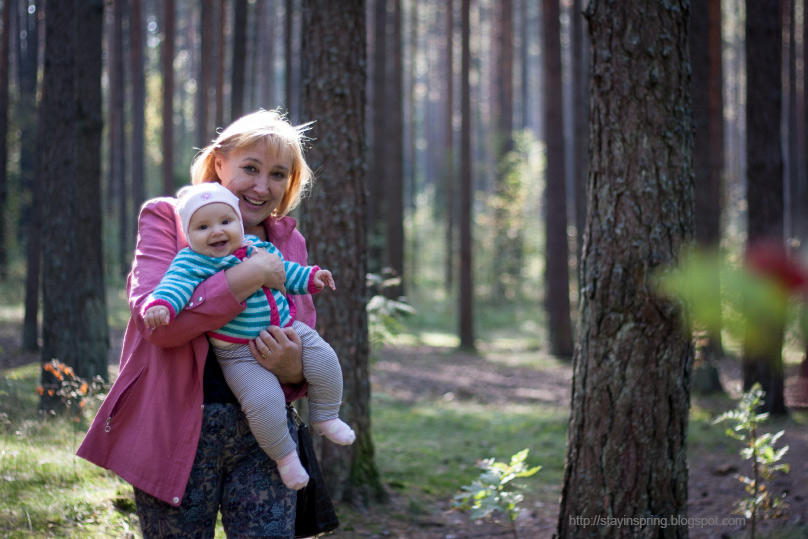 Осенняя кофточка для Марго
Fall cardigan for my Marge is off the needles and has been already warming up Marge at our (pretty chilly lately) home and outdoors, when the days were sunny! (Follow the link on raverly to see all the details and step by step photos of this project). I enjoyed working on this project till the last sewed button and am totally happy with the result! I used the "Basic Raglan Baby Cardigan Sweater" pattern. I fell in love with this cardigan when I saw it for the first time at knitionary the blog. Buttons, collar and stripes was exactly the things that I thought would fit Marge's set of tops for this autumn.
Осенняя кофточка для Маргоши
уже давно снята со спиц и греет малышу дома (а у нас весьма не жарко последнее время) и на улице в солнечные деньки. (По ссылке можно посмотреть детали по этому проекту на raverly, а также фотографии всех шагов). Работа над этим проектом была сплошным удовольствием вплоть до последней пришитой пуговички. И главное, мне ужасно нравится, что в итоге получилось! Схема "
Basic Raglan Baby Cardigan Sweater
" в первый раз попалась мне на глаза в блоге
knitionary
и сразу произвела на меня впечатление — пуговички воротничок и полоски, это как раз то, что мне виделось в комплекте с осенним набором Маргошиных маечек.