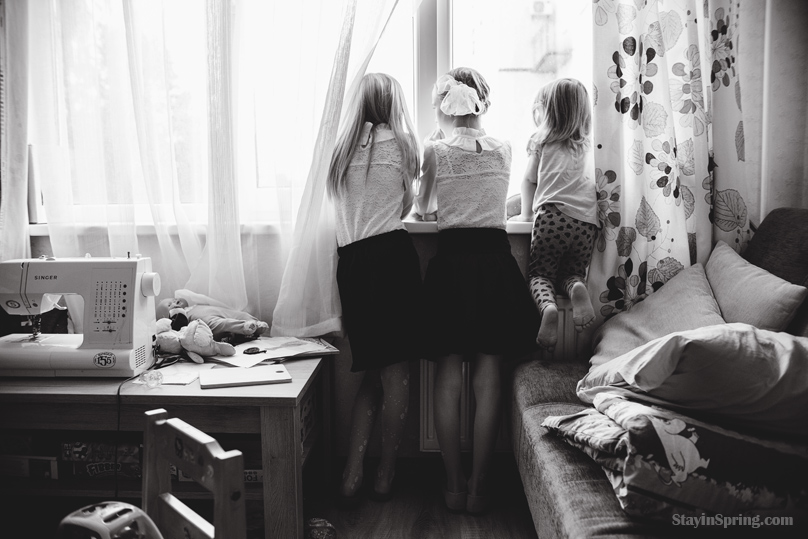 I'm tired like hell. I had a very rich and happy day today. School has started today and Veronica, my middle daughter, is a first-grader. The truth is, I hated school when I was a student myself. But I have always loved the whole process of studying. I still study like mad if I only have a chance to learn something new. I hope my girls will inherit this from me (though, frankly speaking, I already can see that my oldest girl haven't).
.
I haven't taken any traditional portrait of my girls in front of the school building looking festive and holding flower bouquets, like most of the parents did. I would like though, if I had some time for this. Apparently, one can't be with both kids at the same time and take pictures of both of them individually besides having a toddler on his hands. I'll remember this day for a long time, because Veronica even managed to get lost in her first school day and I had to search for her, that made me to go up and down the school stairs from the 1st floor to the 3rd for 5 times (10 times all together) with Marge on my hands.
.
Nevertheless, this day made me SO happy! I just love the atmosphere of this day (it's a holiday here, nobody is actually studying on September the 1st in Latvia) — the kids with the flowers all around, the feeling of new beginning. And finally the feeling of my freedom, when our home will be mine for at least a part of a day. What an energizing feeling!
.
And here is a small gallery from this day (click on the picture to preview it in the gallery). You can see the building of our school on the first picture like we see it from our window. Then there was the official part on the school stadium. The weather was perfect! Kids were listening to the US ambassador speech, who is from Miami(!!), in English. And I bet, nobody understood anything, ha-ha! But I did, and the fact that I did makes me happy too. Then the kids presented their flowers to teachers and the first-graders traditionally released a hundred of balloons in the air.
.