Our Girl is 10 Months Old!
Нашей девочке 10 месяцев!
Marge tries to repeat sounds after us and says "ko" for a cat (the word "cat" sounds like ['koshka] in Russian) and says "pti" for birds (the word "birds" sounds like ['ptici] in Russian). She imitates the sound of a fall with "ba-ba-h".
Марго старается повторять за нами звуки и говорит "ко" про кошку и "пти" про птиц. А ещё она озвучивает падение или громкий хлопок: "ба-бах!"
She puts things in my hand or somewhere (gives and takes) and tries to stack plastic toy glasses.
Марго кладёт предметы мне в руку (учим "дай", "на") и пытается складывать игрушечные пластмассовые стаканы один в другой.
She figured out how to play with a track — throws a ball inside. She flicks carton books.
Она разобралась, как играть в трек — кидает внутрь мячики. Она листает картонные книжки.
She can be frightened by a sudden loud laugh.
Внезапный громкий смех может её напугать.
Finally, she can normally swallow real food, but still prefers milk over it. Actually I think she has swallowed more of a paper than of the food this month.
Наконец-то, она нормально глотает кусочки пищи. Но выбирает пока молоко. Вообще-то, мне кажется, что в этом месяце она проглотила больше бумаги, чем какой-либо пищи.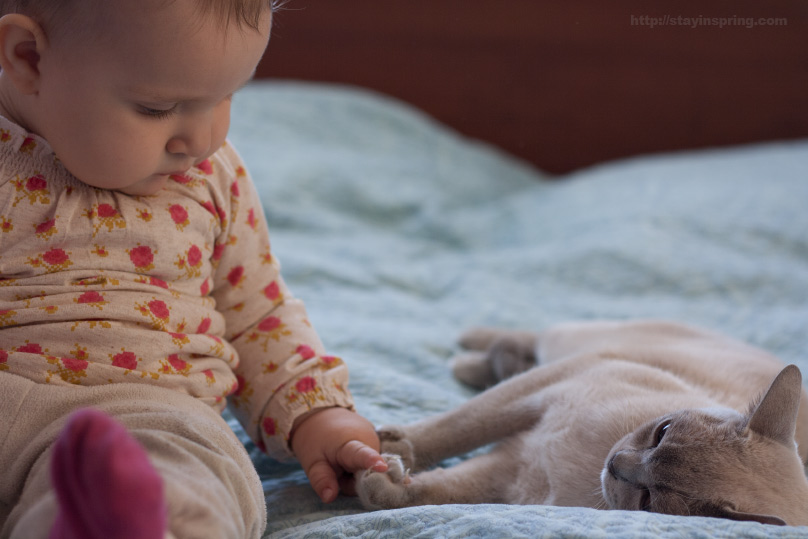 She tries to stand up on her feet while propping with hands too (sorry for this awkward picture, but it's the only one that illustrates this skill). And I'm so grateful that we don't have a baby crib. Marge has much less temptation of standing up on her feet, which she doesn't yet at all.
Она пытается подниматься на ножки, опираясь при этом на руки тоже (фото не самое удачное, но зато демонстрирует умение). И о, как я рада, что мы живём без детской кроватки, и у Марго нет соблазна вставать на ножки!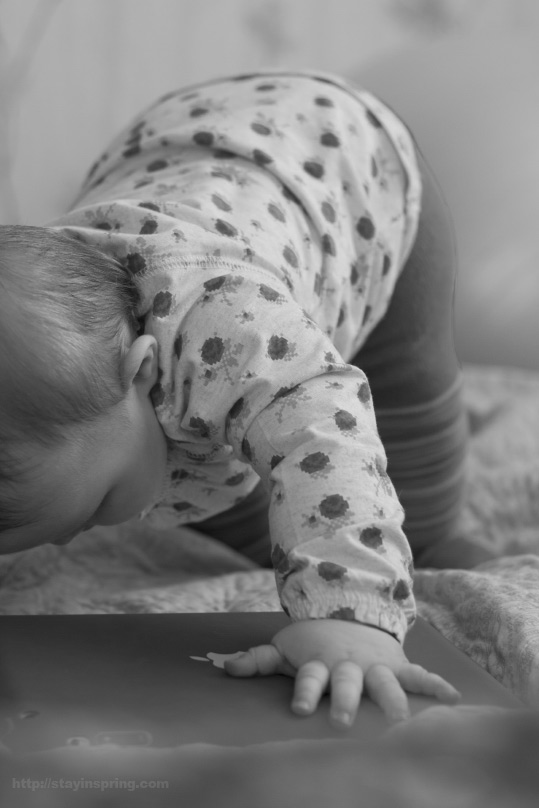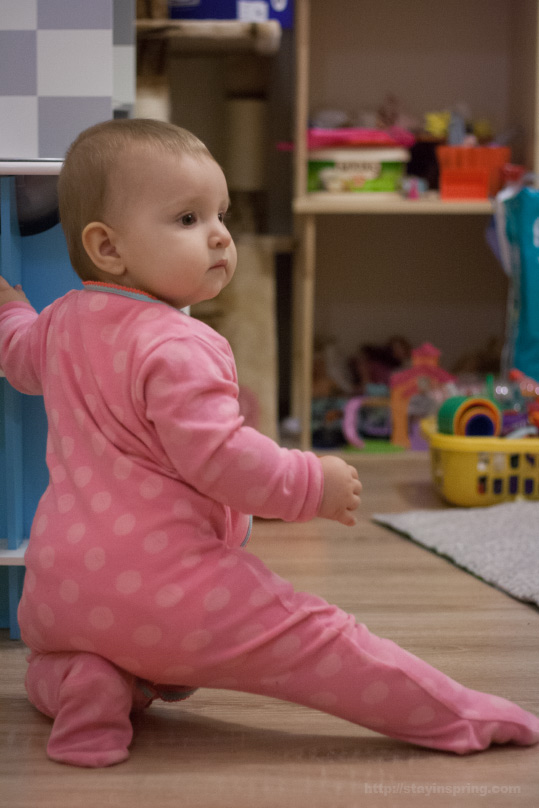 Still loves watching birds!
До сих пор любит наблюдать за птицами!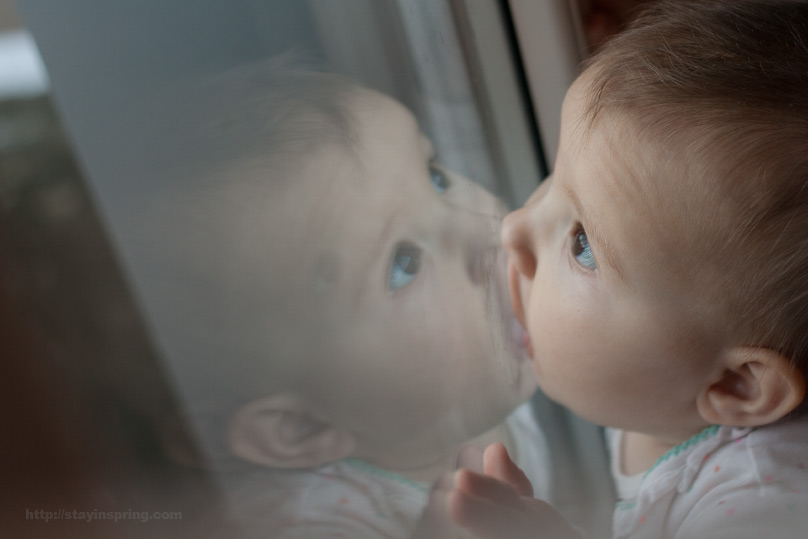 She is my girl — shows an interest in a camera at her wee age!
Моя девочка! Сызмальства проявляет интерес к камере.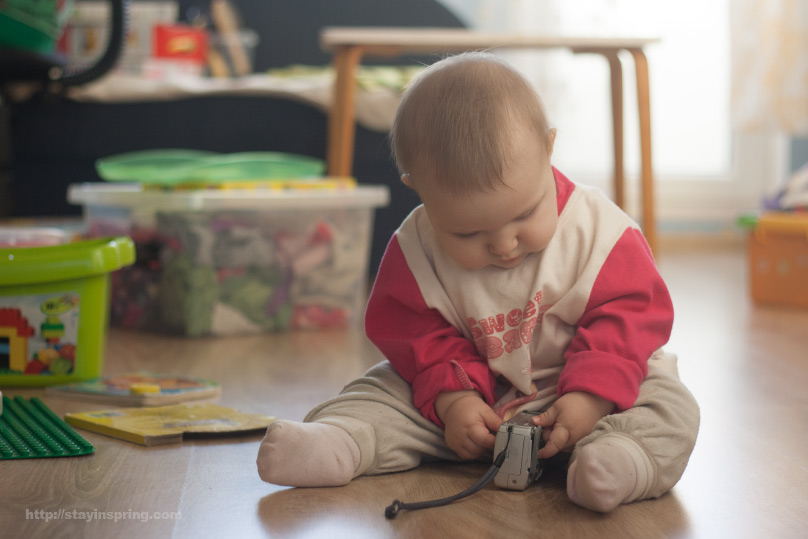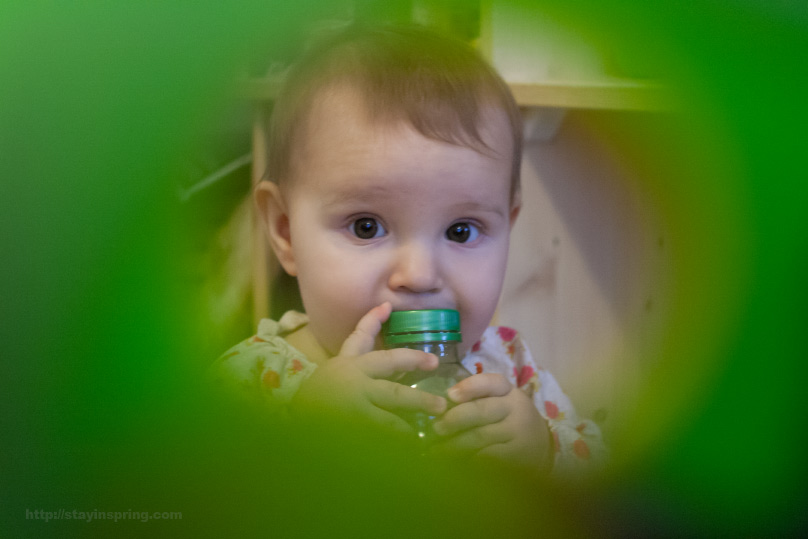 This is Marge with her grandmother in the New Year's Eve. By the way, Marge was the only kid who woke up at 12 o'clock and watched fireworks with me. She was afraid of those at the start, but her interest overcame her fear pretty soon.
Здесь Маргоша со своей бабушкой в канун Нового года. Кстати, Марго единственная из всей оравы наших детей проснулась в 12 от грохота и смотрела со мной на салют. Сначала он сильно напугал её, но потихонечку она привыкла к громким звукам, и любопытство взяло вверх.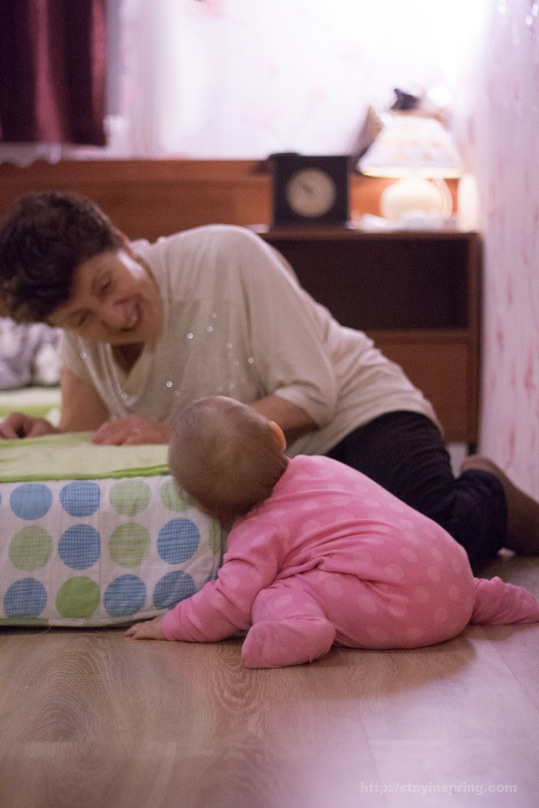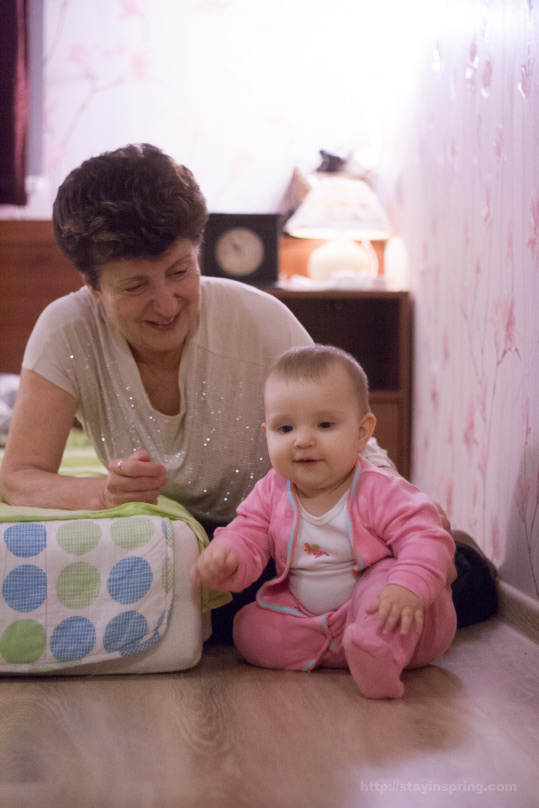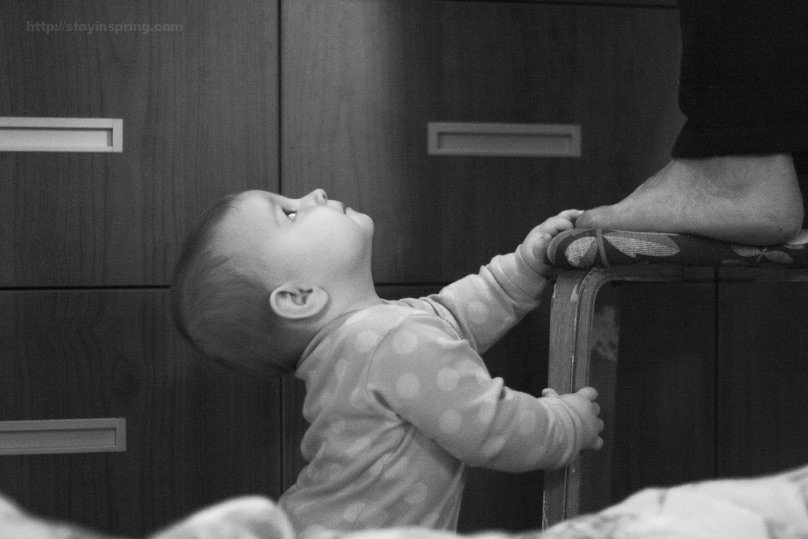 Marge flew by plane for the first time this month! Of course, it won't be something she'll remember, but she was decent traveller and by no means didn't spoil our vacation. I wrote about our journey and shared a lot of photos here and here (and there will be more). And she was very happy to see her siblings after returning!
Марго в этом месяце впервые летала на самолёте! Конечно, это не то, что она будет вспоминать, но она была прекрасным путешественником и ни капельки не помешала нашему отдыху. Я уже писала о нашем путешествии (и буду писать ещё)
здесь
и
здесь
. А ещё по возвращению она была очень рада видеть наших старших деток.
Here she is glad to see her sister for the first time after the flight.
Вот здесь она радуется сестре, которую видит в первый раз после полёта.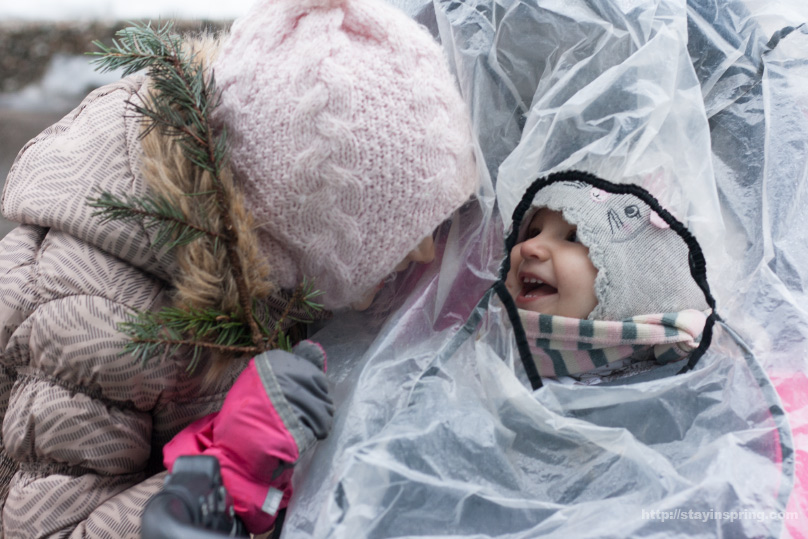 Here she plays her favourite peek-a-boo game with her big brother.
Здесь она играет в свою любимую игру "ку-ку" со старшим братом.